18 Tools to Digitalize Teaching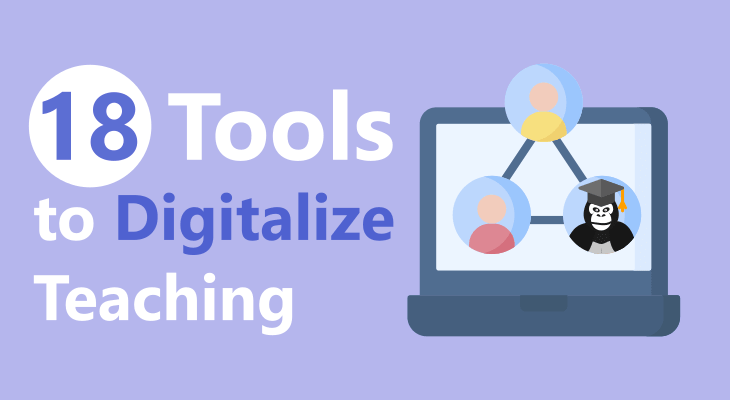 Teaching equips people with all the things they need to face life. It's what makes them evolve and improve their skills, be it life skills, cognitive skills, or specific work-related skills. Therefore, we always need to strive to improve the teaching-learning process.
Regardless of whether it is primary, secondary, or higher education, we can make it much better and more interesting by digitalizing it.
That doesn't mean going fully online, rather incorporating digital tools in the traditional classroom teaching to enhance the learning outcome. Hence, you can use these tools as additional teaching resources or practice materials, add more variety to your teaching, or even shifting to fully digital education, as the one we have now, with COVID-19.
You, as an educator, have the freedom to choose how to digitalize your teaching. No matter how you do it, it will boost your teaching efforts and will support students' learning.
If you want to try this in your classroom, here are 18 tools that will help you digitalize your classroom.
Edmodo
Edmodo is an educational collaborative tool that creates a virtual classroom community. It gives teachers the tools they need to share lessons, create collaborative groups, follow and measure students' performance, and communicate with parents, among the others. Moreover, it helps students organize their tasks, keep up with everything that goes on in the class, and communicate with their teachers. Furthermore, parents, can keep track of their children's success and communicate with the teachers for anything you need.
It's created for K-12 students and teachers with the idea to make teaching and learning fun and easier. You can use it to foster your educational process and make it simpler even when teaching at distance.
Price:
Free trial
Freemium – FREE
Premium - $2500/school/year
Socrative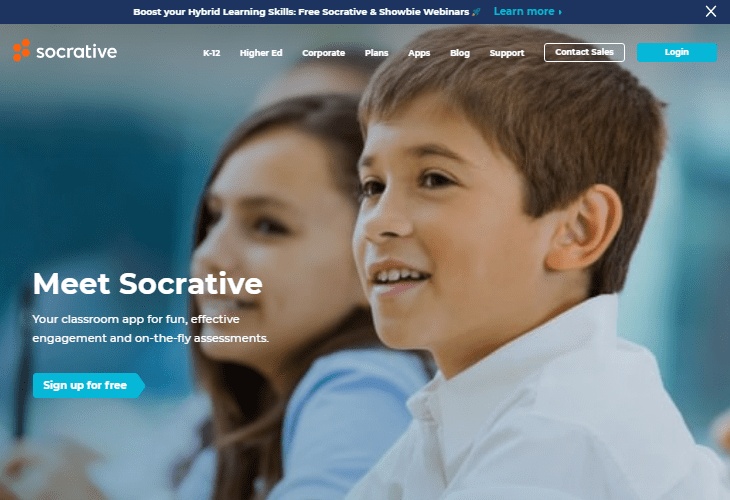 Socrative is a cloud-based student response system that allows teachers to test their students by giving them mini-quizzes. Thus, it makes grading much easier. As a teacher, you can create different types of quizzes, including multiple-choice, true-false, short answer, or open-ended short response.
What makes this tool great is that it not only makes the assessment process simpler but also streamlines as teachers can quickly prepare a quiz and get fast feedback on students' knowledge. Moreover, it makes distance learning simpler as teachers can assess their students no matter where they are.
Socrative is suitable for K-12 teachers and students but can be also used for higher education and corporations.
Price:
Socrative – FREE
Socrative PRO for K-12 - $59.99/year
Socrative PRO for higher education and corporate - $99.99/year
Prezi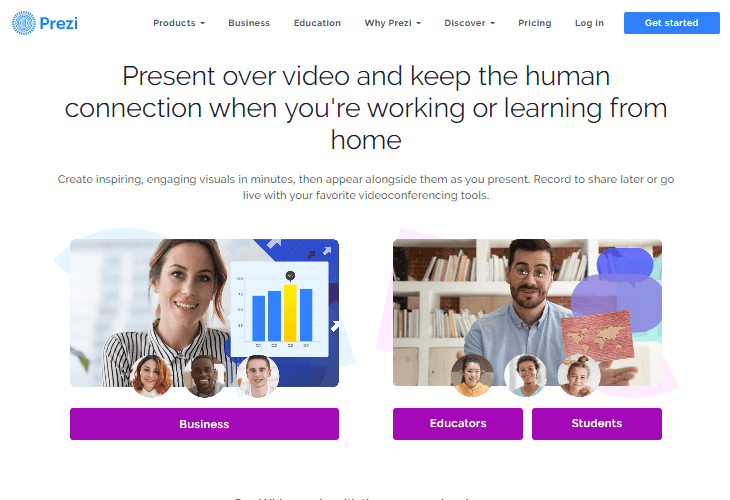 If PowerPoint is interesting but limited and doesn't create the presentations as you would like, you have Prezi.
It's a cloud-based digital tool for creating, giving, and tracking interactive presentations easily. It allows users to enjoy creating presentations and have fun presenting them due to its features, such as zooming in and out, moving from one side to another across the canvas, focusing on the content, etc.
Using Prezi is simple and interesting as both, teachers and students love working with engaging presentations.
This tool is suitable for all students, regardless of their age, as well as for all teachers.
Price:
Free trial
Standard – $5/month
Plus – $15/month
Premium – $59/month
Google Classroom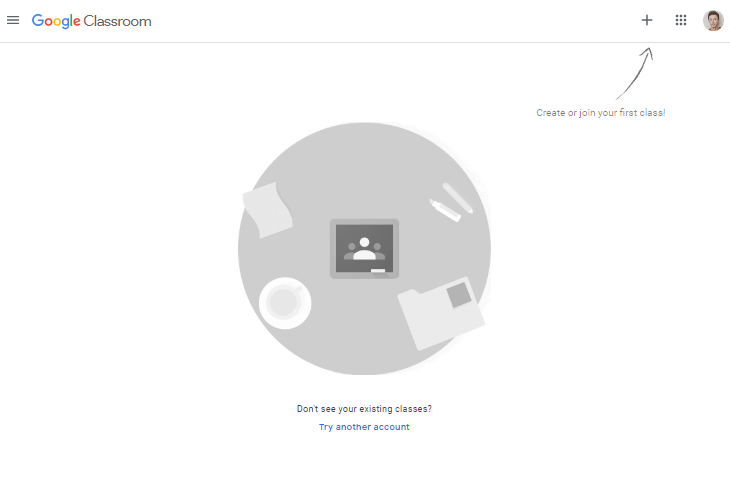 Here's a digital tool from our most beloved Google.
Google Classroom is a free web-based tool that helps schools simplify the educational process. Although its primary purpose is to streamline the file-sharing between teachers and students, it does much more than that.
It allows teachers to create, share, and grade assignments much easier. Also, they can ask intriguing questions and materials for reviewing at home. Moreover, it allows students to ask questions and get answers from teachers and other students on things they find unclear or don't know.
All in all, Google Classroom helps teachers and students share files, organize assignments, and improve their communication and collaboration.
Price:
G Suite for Education – FREE
G Suite for Enterprise for Education – $48/user/year for faculty and staff & $48/user/year for students
Quizlet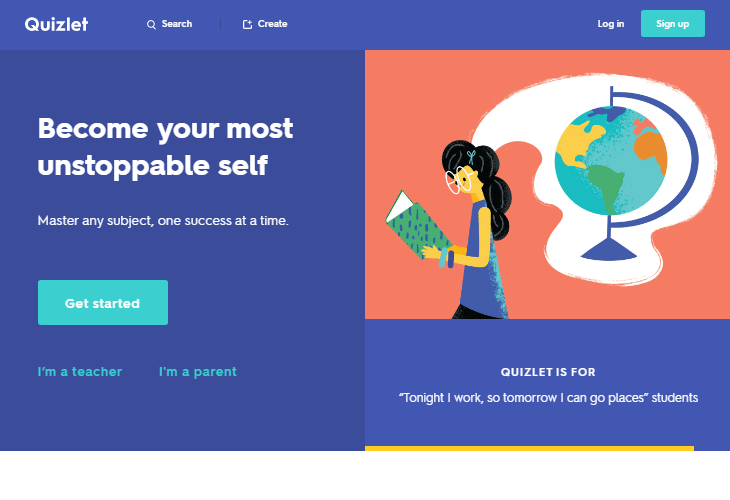 Quizlet is a web-based platform/app for teachers and students that makes the education process more interesting. It allows both of them to create and share their own learning materials. It offers some cool features, including games, flashcards, diagrams, and leaning tools.
Quizlet allows teachers to add fun to their classroom by creating different sorts of games. For students, it makes learning easier and more interesting and allows them to create their own study sets and flashcards for checking their knowledge.
It's suitable for teachers and students of all grades, especially for those of K-12 ad high school. It can be used for study languages, math, science, history, social science, and other subjects.
Price:
Class Dojo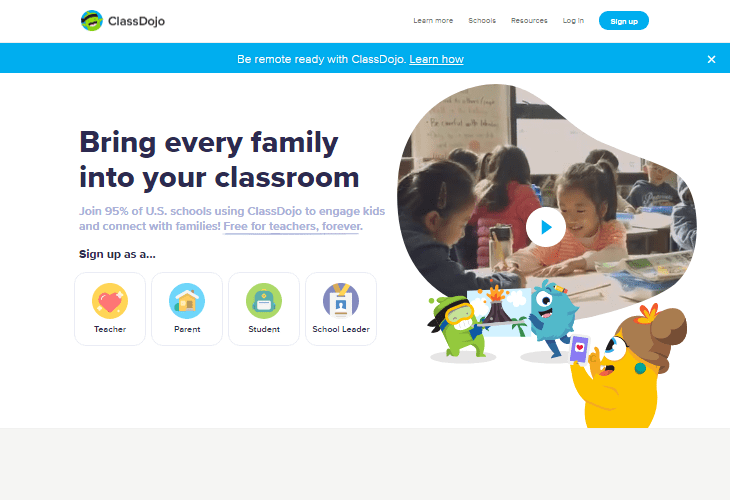 ClassDojo is a digital tool/app that helps teachers improve their students' behavior and grades. It also promotes classroom communication and creates a community of teachers and students.
Unlike most educational digital tools, this one focuses on student's behavior and tries to improve it, thus improving their grades. It's because well-behaved students are better learners and improve the learning and focus of everyone in the class.
This app allows teachers to track students' behavior and give them tasks that improve their behavior treats. and share it with their parents. Also, they can share students' behavior results and improvement with their parents.
Price:
Kahoot!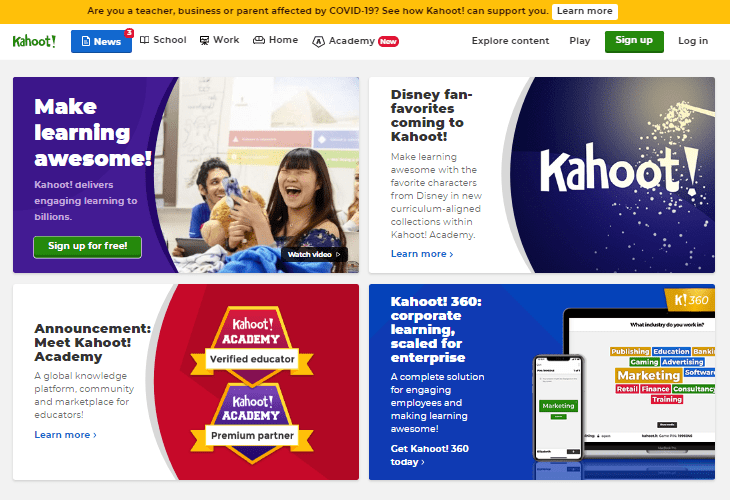 One of the best ways to teach students without forcing them is by employing games in the classroom. Although many people, including teachers, believe that games are distracting, most of them know their educational value.
If you are one of those teachers who believe that games support learning, you need Kahoot!
It's an education platform based on questions and games. Using it, you can create surveys, questionnaires, and discussions related to your lessons. They are, then, incorporated in games, so when you project the games to your students, they will pop up within them. In that way, students play games and answer questions related to the material studied.
Price:
Standard – $11.27/host/month
Pro – $22.5/host/month, offers 7-day FREE trial
Premium – $45/host/month
Premium+ – $67.6/host/month
HotChalk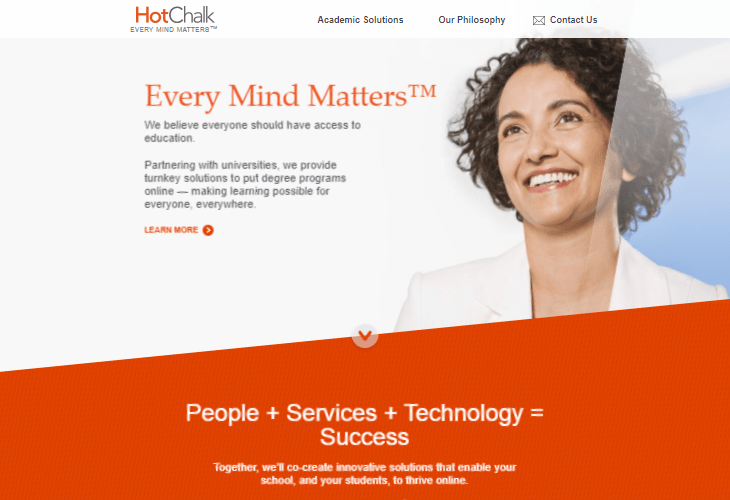 HotChalk is an online learning environment where teachers can communicate and interact with students and their parents. Although many digital tools support teaching and learning, this tool is the place where you organize your lesson plans, curricula, grades, and other teaching and assessment materials.
In addition, it's comprehensive and easy to use, thus making keeping your records simple. It offers teachers a lot of grade books, assessment quizzes, and library base to help them manage their teaching. Moreover, it offers them lessons they can adjust to suit their students as well as other tools that support interaction and provide feedback.
Price:
Animoto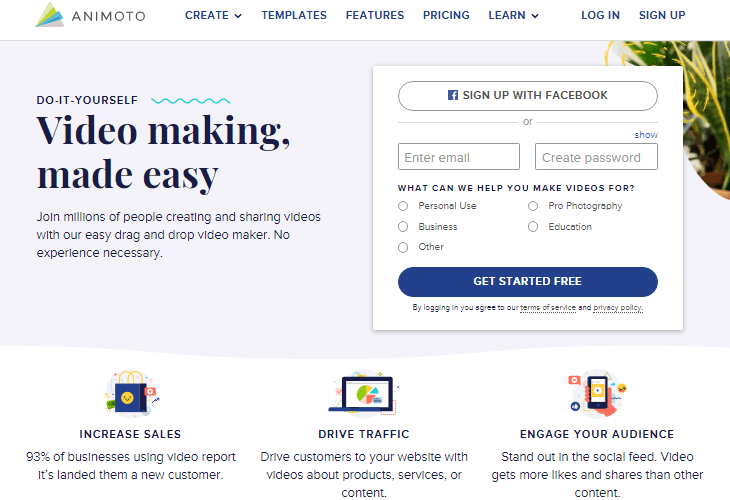 Animoto is the perfect education digital tool that helps teachers and students of all ages to create high-quality videos from any mobile device with ease. Videos are one of the most engaging mediums today. That's why every teacher should incorporate them into their classroom.
While it seems that creating videos doesn't have much to do with learning, it has a lot to do with it. It's because you, as a teacher, can create engaging videos through which you can teach the material. Your students will love watching it and will learn at the same time.
Price:
Free – FREE
Professional - $33/month
Team - $49/month
Pixton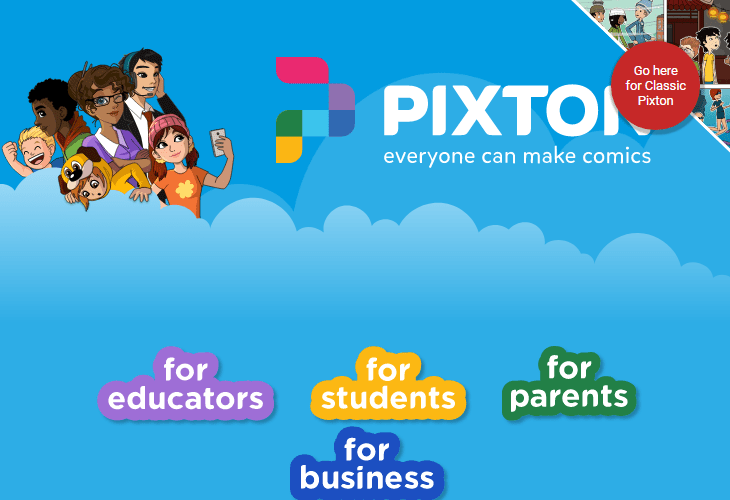 Writing skills and creative thinking develop the best when writing stories. But, (almost all) students hate writing stories. So why not support the development of these skills with a digital look like Pixton.
This tool allows students to draw a story instead of writing it. They can make storyboards and comics. And, we know they love drawing. In that way, you, as the teacher, will get a story and will support their creative thinking. Although they won't be actually writing, their writing skills will develop, too, because they still have to come up with a plot of the story they draw. Apart from supporting these two skills, Pixton also enhances students' visual thinking and maximally engages them.
Price:
Monthly Pack - $9.99/month
Access Everything - $24.99/month
Annual All - Access Plan - $99/year
School or District - Upon a Quote
Explain Everything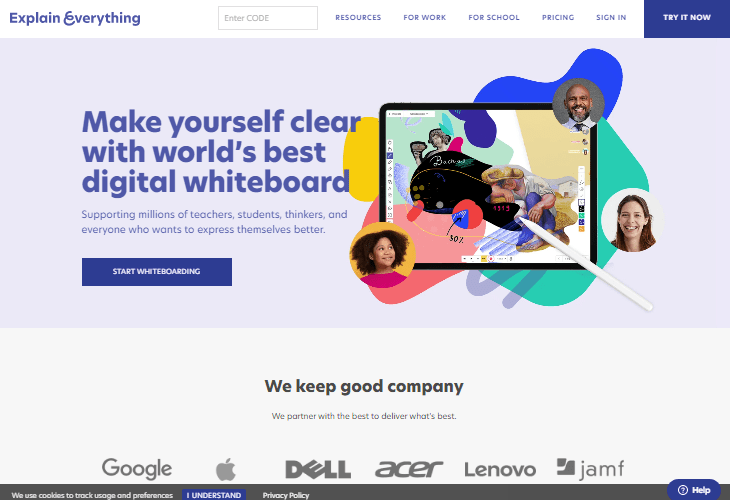 The digitalization of the classroom can be done in many different ways, covering different areas (subjects) and skills. What it usually can't replace is the feeling of the educational process, the teacher-student interactions. However, this is no longer an issue as Explain Everything is all about interaction.
This digital tool supports the collaboration of teachers and students in a virtual environment. It allows them to interact and work with each other using an interactive whiteboard. In that way, it also supports group activities. So, you can still organize your students into groups and give them assignments to work on together, just like in the classroom.
This tool is very easy to work with and it's suitable for upper-class students and teachers. It can be integrated with Google Drive, OneDrive, Dropbox, Evernote, Schoolwork, and other apps.
Price:
Free – FREE
Individuals - $6.99/month or $69/year
Teams - $11.99/month or $95.99/year
Glogster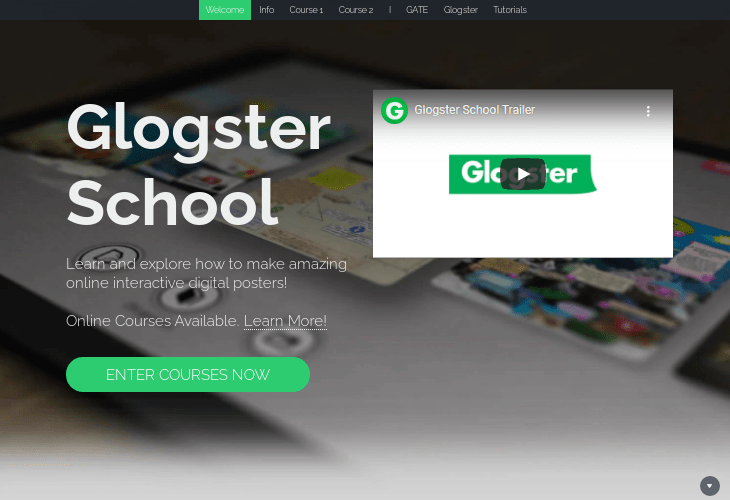 It's a fact that students remember visual content the best. It can be videos, PowerPoint presentations, or other types of multimedia. Glogster is an app that allows you to create multimedia posters by combining photos, videos, and text. Hence, you can turn that boring and much-hated text into more interesting visual content. In that way, you support your students' learning and make teaching more fun.
This app is suitable for all teachers and students and allows you to save all your glogs (multimedia creations) in a library called Glogpedia. So, you can use your creations at any time in the future.
Price:
Limited – FREE
Month edition - $5/month
Elementary - $39/year
Secondary - $95/year
Faculty - $390/year
Multi licenses – contact the provider
Schoology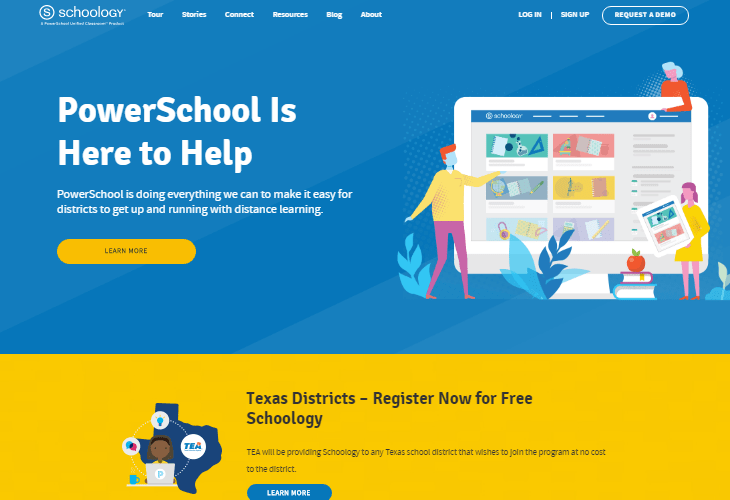 When you need to replace the traditional classroom with a virtual one, you can't miss Schoology.
This tool is a learning management system that allows teachers to create and share materials with their students, give them assignments, track their progress, etc. In short, you, as a teacher, can do pretty much everything you do in your classroom.
Schoology has numerous features that make distance learning more convenient and organized. You can organize all your content easily, add multimedia into your assignments, set a deadline, and other rules for assignments, record audio and video, have a grade book, and much more.
Apart from being suitable for teachers and students, it's also suitable for parents. So, you can involve them in the educational process, especially for younger students, and allow them to track their progress.
Price:
Free version – FREE
Enterprise version – the price varies per implementation; $10 per student – one-time fee
Piktochart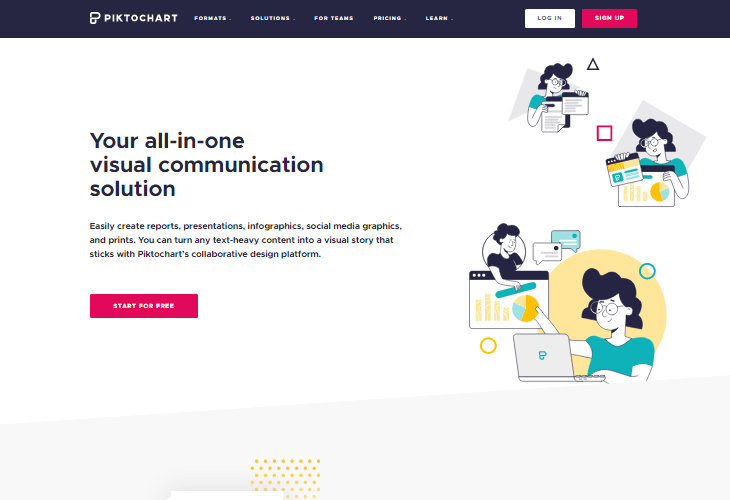 Piktochart is one of those tools that focus on visual content. It allows teachers to create presentations, infographics, posters, and other visual materials. They make even the most boring materials interesting, thus supporting and aiding students' learning.
All teachers and students can use it, either in the classroom or at home. Hence, you can incorporate it into your classroom activities when teaching certain material. Also, you can use it to give home assignments to your students.
Price:
Free – FREE
PRO - $24.17/month
PRO Team - $82.5/month
NYT VR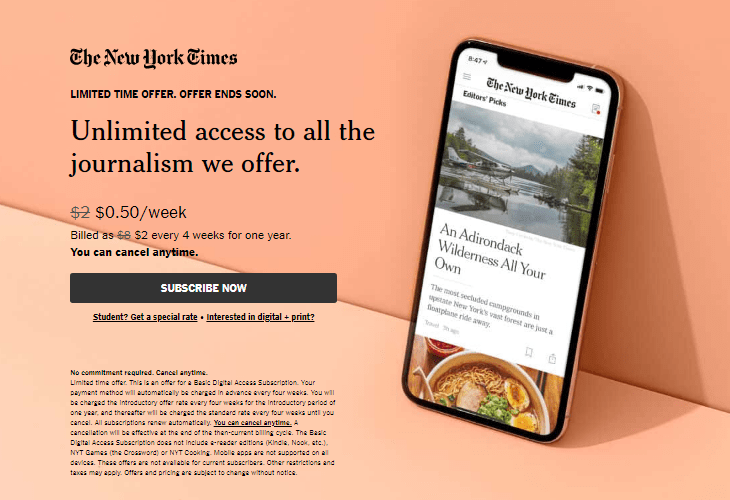 Virtual reality is the latest trend in digital education. Although it has been developed a couple of decades ago, it funnily came to life for educational purposes. This technology is all about immersive learning, thus allowing students to see or experience the things they have been learning.
While you can use this app on your phone without any additional tech devices, you will probably need a VR gear, such as Google Cardboard and oculus. Once you and your students have all the things you need, you can experience a real-life setting no matter what you project on the oculus. You can use it for subjects based on text, such as history, geography, and cultural studies.
Price:
Free – limited content
Subscription (to NYT) – $0.50/week, billed $2 every 4 weeks
Teachem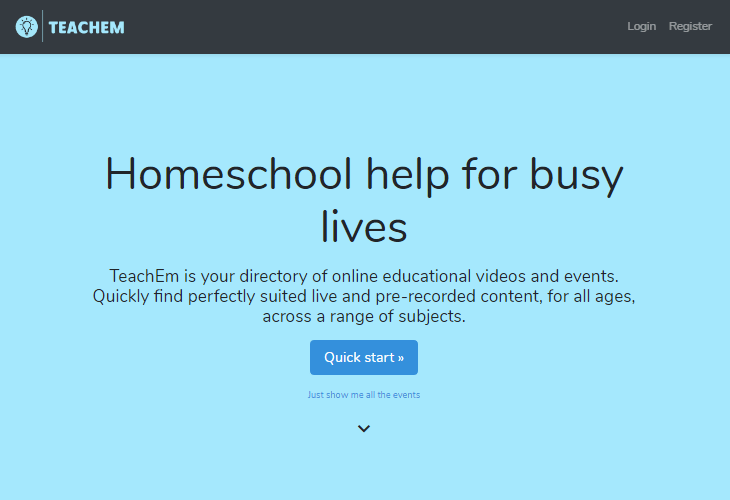 Visual resources are one of the best ways to teach as students like them better and remember them more easily. But, not all videos are useful when teaching certain subjects or themes unless you create your own. Since you can't actually film a real-life video or can't create one using a specific tool, you can only find a way to adapt the existing videos or don't use them at all.
That's where Teachem comes. This web-based digital tool allows you to adapt YouTube videos to your teaching materials by turning them into customized lessons with notes, quizzes, and flashcards. You can use it for every subject and with students of all ages.
Price:
GoClass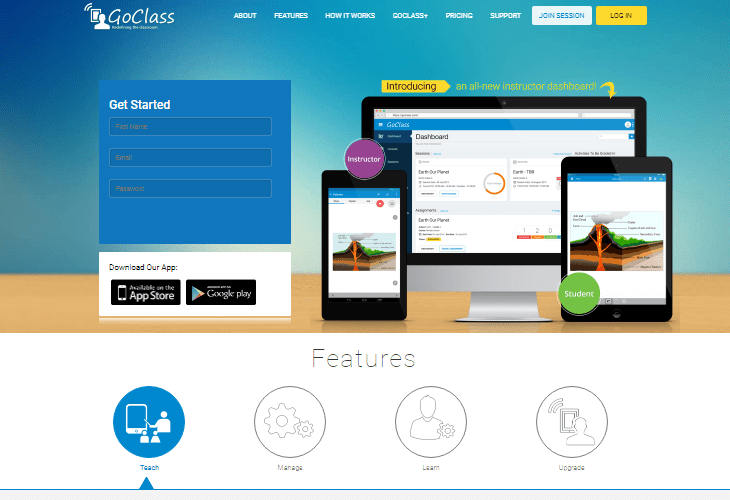 GoClass is another educational digital tool that allows blended learning. It allows teachers to broadcast videos, content, handouts, and other learning materials directly to their students' device. Also, they can create lesson playlists and assignments per each content to make their lessons more personal per each student.
Students, on the other hand, can bookmark the content for later view or save the notes. They can join the lessons and follow the classes from anywhere.
Using this tool allows teachers to enhance students' engagement in the classroom or when learning from a distance.
Price:
Basic – FREE
Premium - $99.99/year
CK-12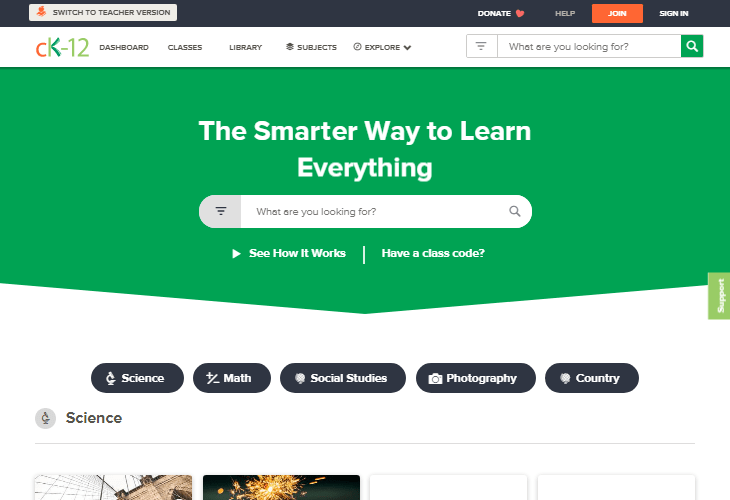 The last digital tool on our list is CK-12. Unlike all the other tools here, this one is actually a website. However, it's nothing less than the other tools in terms of digitalizing teaching. It's because this platform allows creating and distribution education material through the internet – digital material.
By creating digital education materials, teachers help reduce the cost of education books for K-12 students around the globe. Plus, they make material available worldwide, so any teacher and student can access it from their computer.
In addition, teachers can modify existing materials and add videos, audios, and interactive exercises to complement the lessons. Apart from projecting them on their computer, they can also print those materials so they can use them as their standard teaching materials.
Price:
Final Words
There are plenty of educational tools that can digitalize teaching.
Many of them can also be used by students as well as parents. In this way, teachers can improve their teaching, support students' learning, and involve parents in the educational process.
They can choose whether they use them to complement their lessons in the classroom or completely replace the classroom with distance learning. This gives them bigger freedom in teaching, especially in times like these when we need to stay home to stay safe.
It also helps them enhance the teaching-learning experience which will result in better results (higher grades for students).
---