Meet GorillaPDF Compressor Tool
It's been a busy period at GorillaPDF, but a wonderful period.
We did something extraordinary, something that you could rely on for the years ahead.
And that's the new powerful Compress PDF tool that we are adding to the existing toolset.
GorillaPDF Compressor offers 4 levels of PDF size reducing: Low, Medium, High and Very High Compression.
Each compression type is different in terms of the size it cuts, but also by the quality of the output file.
Low Compression - High PDF Quality
Medium Compression - Standard PDF Quality
High Compression - Printer PDF Quality
Very High Compression - Lowest PDF Quality
We understand that no size fits all, which is the reason for the extra effort and 4 exclusive algorithms to shrink your PDF files.
Sometimes you might need to only send the PDF via email without worrying about the quality of the images, and sometimes you might need a higher quality graphics.
Just see below image how the Very High compression reduces the size of a PDF by 98,39%. That's amazing!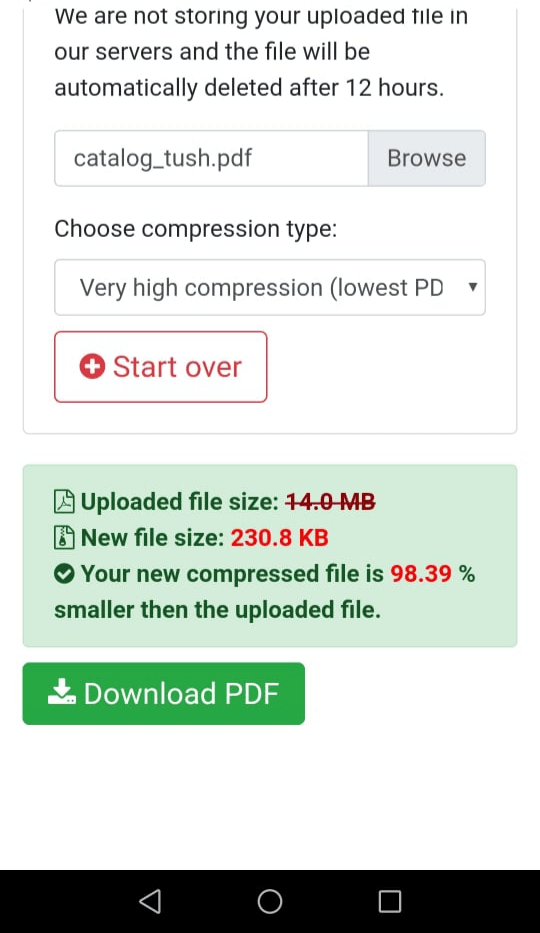 As you might know, all GorillaPDF tools are free, and Compress PDF is no exception.
More to come. Follow us on the social and never miss a tool.
---