JPG vs PNG vs PDF: Which Is the Best Format?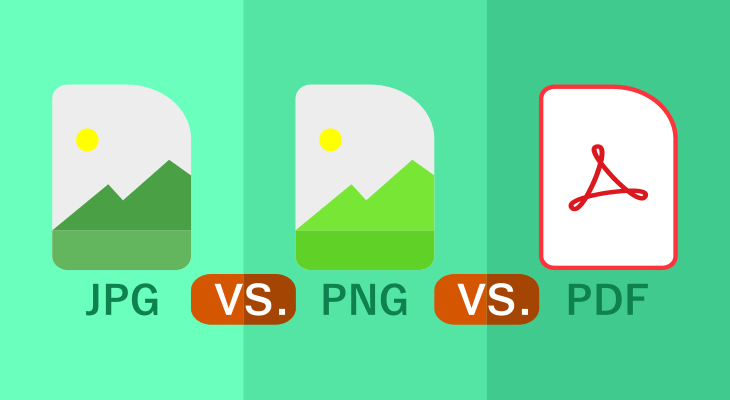 When dealing with digital files and creating the same, it's important to know which format is best for the particular type of while. Since we can't talk about all file formats and compare them all at once, in this post, we focus on image file formats.
There are also many image file formats you can choose from, including TIGG, JPEG (JPG), PNG, Bitmap, RAW image files, and EPS. Each of them is best for a specific use of the image. For instance, TIFF is best for printing since it doesn't need to be compressed. Similarly, JPG and PNG are best for web graphics.
But, which one is better?
This is a difficult question to answer because it all depends on what you intend to do with the image (share, compress, print) and the type of image (vector image, web graphics, etc.). And, since it's very hard to tell "This is the best format!", we've decided to give you an overview of only 3 of them: JPG, PNG, and PDF.
Wait, PDF?
Yes! Although not one of the classic image file formats, PDF is commonly used for sharing, printing, and downloading high-quality images.
So, let's check them out!
JPG vs PNG vs PDF: Overview
Before jumping right to comparing these three formats, let's look at each of them separately. This will give you more details into what each file is and what it's best used for.
JPG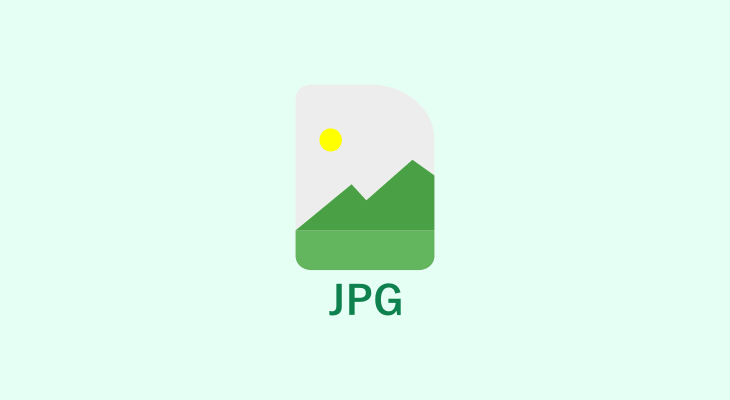 This format was created by the Joint Photographic Experts Group (JPEG), from which it takes the name. It's mostly used for compressing images, so that they have a smaller size, thus being easier for sharing and using them in web design.
However, it's a lossy format, which means that the image saved as a .jpg or .jpeg will be compressed or some file information will be lost. Also, there is a loss in quality, but it's usually not noticeable.
Best used for:
Sharing via email
PowerPoint
Web images
Non-professional prints
Storing digital photos and saving photos on digital cameras
Characteristics:
Smaller file size – Images saved in this format are smaller in size, which makes them perfect for saving space on your device, sharing them via email, chat, or any other platform, and using them as web graphics. The compression ratio of this format is around 10:1, which means if your image is 15MB, after saving it as a .jpg or .jpeg, it will be 1.5MB in size. Convenient, right?
Quality loss after compression – While being compressed has some benefits, it also has some disadvantages such as quality loss. This is because the algorithm used to compress the images finds the pixels with the same/similar colors or value and puts them together in tiles, which leads to image data loss. Also, after saving your image in this format, you will lose that data forever without a chance to ever be restored to the original quality.
Special features:
You can choose the amount of compression of the image when using image-editing programs like Photoshop and GIMP.
When to use JPG?
When you are working with online images as they offer you the most flexibility when editing or compressing raster images. Hence, it's best to use this format to save web images you want to download fast.
For images you want to print because they allow you to edit them with ease and then print them out.
When you want to send a quick preview image to clients because they can be compressed to a very small size, which makes them perfect for sharing via email.
Tip: If you need to share a JPEG image with important information that you want to protect, try our JPG to PDF converter. It easily turns images into PDF file format. Then just encrypt the PDF with the password protect tool.
When not to use JPG?
When you need a layered image that can be edited because JPGs are flat images where all edits are saved onto one layer and can't be undone.
When you need transparent web graphics because it doesn't have a transparency channel and must always have a solid color background.
PNG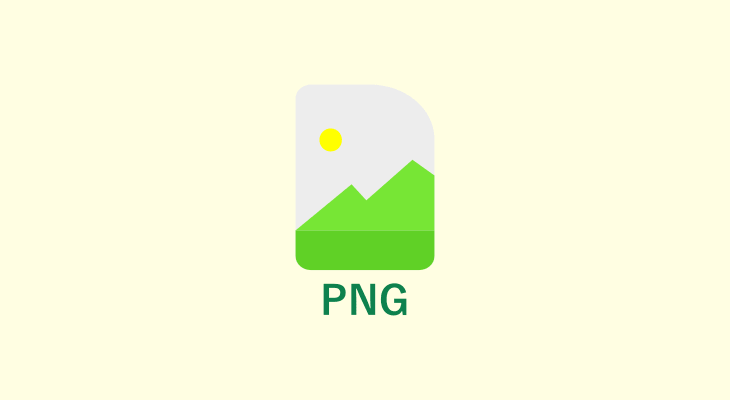 PNG, an acronym for Portable Network Graphics, is a lossless raster image format that was created to replace the GIF. It contains a bitmap image that is compressed without losing any data. And, since it doesn't reduce the image size, it keeps more image data and details than JPG, which results in higher quality images. That makes this format optimized for web graphics like logos and graphs.
In addition, PNG has inbuilt transparency and can display higher color depths. This results in millions of colors.
Best used for:
Web graphics
Images with transparent backgrounds
Digital photos
Characteristics:
Larger file size – PNGs slightly reduce the size of images, keeping all their data, thus resulting in high-quality images after compression. This makes them perfect for use on the web.
High-quality images after compression – The PNG format uses an LZW compression which results in lossless quality. Hence, the image can be opened, edited, and saved over and over again without losing its quality.
Special features:
What makes PNGs one of the favored image formats is that they have built-in transparency which allows you to "remove" the image background by making it transparent.
When to use PNG?
When you want high-quality images after compression.
When you want transparent web graphics with great quality because PNGs have lots of color depths that make images more vibrant.
When you want an image with a small size.
Tip: You can always convert PNG to PDF if you feel more convenient with the free PNG to PDF converter.
When not to use PNG?
When you want to print the images because PNGs are optimized for digital images. Nonetheless, you can print them, but it's better to use JPG for that.
When you work with web photos or artwork because PNG doesn't reduce it much, which results in large-size files.
PDF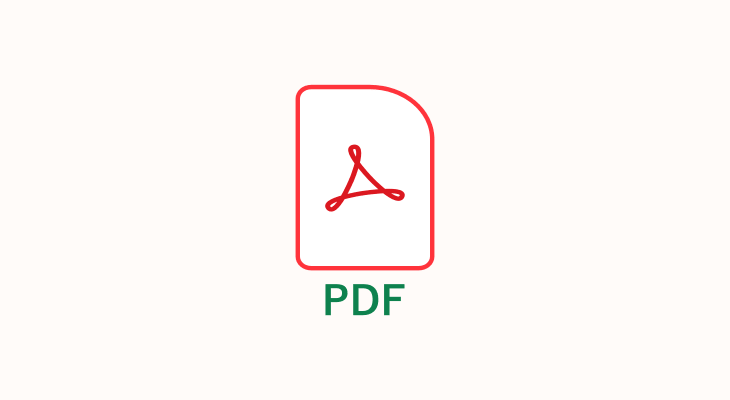 Although not a classic image format, the Portable Document Format (PDF) becomes more and more used nowadays due to its impressive characteristics, such as easy sharing, lossless compression, protection, annotation, and comments. Plus, it's the industry standard for document sharing because it creates exactly the same copy of any file you want to create a copy of, including images.
Best used for:
Sharing
Storing images, including screenshots
Storing text documents containing images or photos.
Direct output of scanned images and content creation apps
Creating a digital version of printed files
Downloading files (images and documents)
Link embedding
Files you want to protect
Legal documents
Signing documents
Making files accessible from all browsers
Characteristics:
Small file size – When you save a file with graphics as a PDF, it takes much less space than saving it in its original format. It's because PDF is made to "naturally compress" files without actually compressing them. Still, all files keep their original content (images, graphs, multimedia) and at the same quality. And if your PDF is large in size, and makes it difficult to share, try our powerful PDF compressor that offers four different compression levels.
High quality – Images saved as PDF are customizable and allow you to export and optimize them for editing, sharing, and printing. And, the prints will be identical to their digital versions.
Simple compression with high-quality – PDFs unlike most other formats used for images can be additionally compressed without losing any data or details of the image. There are many online tools (most of which are free) to compress your PDF without a hassle. And, best of all, the compressed file will have great quality.
Reliable – Images saved in PDF are identical to their originals, which means that you can share them without worrying they will be altered in any way.
Special features:
PDFs are known as the most secure file format because some tools associated with the format allow you to protect your files from unauthorized access, editing, and copying. You can do that by simply adding a password to the PDF or a watermark. Also, you can restrict access to specific groups of users.
When to use PDF?
When you want to print images since many printers prefer PDF as a primary delivery format.
When you want to display visual files on the web, such as flyers, posters, booklets, and magazines. Having it saved as PDF, your materials will be all in the same package, which makes them easy to view, download, and print.
When not to use PDF?
For editing images – Although PDFs are perfect for storing all sorts of images, they aren't suitable for editing them. Instead, you should use other apps, such as Photoshop, for that.
JPG vs PNG vs PDF: Comparison
Now that we've looked at each file format separately, it's time to compare them. To provide you with a clear idea of the features they share and differ in, we've created a table containing the formats on one hand and the features on the other. So, let's check it out!
| | JPG | PNG | PDF |
| --- | --- | --- | --- |
| Small file size | | | |
| High quality | | | |
| Compression | | | |
| Images | | | |
| Graphics | | | |
| Transparency | | | |
| Layers | | | |
| For web | | | |
| For printing | | | |
| Raster image | | | |
| Vector image | | | |
How to Choose the Right Image Format?
Ok, so we've looked at each image file format and compared them in the table above. Now, you know which format is best used for what kind of image and in which scenario. While this can serve you as a guide, it's still up to you to make the final decision.
So, which image format is the right one?
Not sure???
Here are tips on how to choose the right image format!
Consider your needs / the needs of your company – What do you want to use those images for? Are you going to upload them online on your website/blog/social media, use them as graphics, or print them out? Whatever you need them for, first, consider it. Depending on your answer to these questions, you'll be able to identify which format(s) is suitable for that use.
Consider the type of image – Is the image raster or a vector? Is it a photo, a graphics, or a screenshot? These things affect your decision greatly as not all image formats are good for all types of images.
Consider the image quality you need – What's the resolution of the original image? What resolution do you need it to be? Are you ok if the image loses its quality or does it have to maintain the same? Ask yourself these questions to help you determine the format that's most suitable for your image(s).
Choosing the right format is important for a successful job. It plays a great role in managing and storing images. In order to make sure you choose the most suitable image file format for your images, take a good look at each of these three formats, their features, uses, and compare them. Then, ask yourself the questions proposed in the section above and choose the format that ticks most boxes for the type of image, its features, and your needs.
---