How to Make PDF Searchable?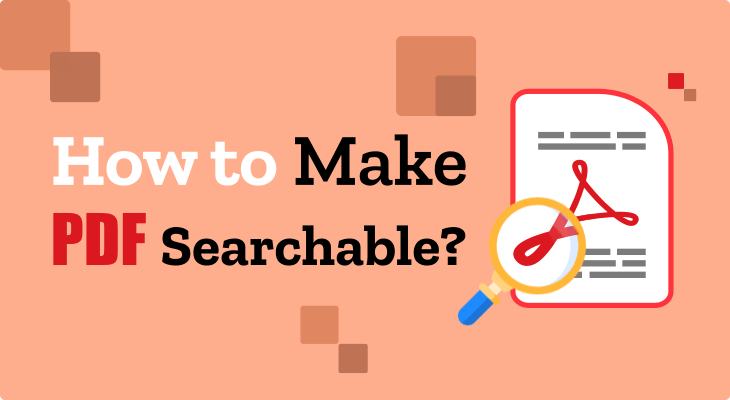 Portable Document Format (PDF) is one of the most commonly used file formats due to its accessibility and versatility.
Both individuals and companies use PDFs to access, edit, and share various types of formats with ease.
Because of its popularity, users are experiencing different case scenarios with PDFs.
One specific example is when we need to search through a PDF, but we can't, because the PDF document can't be searched.
This occurs when the source of the PDF is an image instead of a typed document.
Actually, this was a drawback and it's no longer one as now you can search specific words and phrases into your PDFs as you would do with a Word document, for instance.
Having a searchable PDF is of great importance because it allows you to easily navigate your documents by finding specific information in them without having to read the entire text.
*** So, how can you make your PDF searchable?
There are two main ways to do this. You can either use Adobe Acrobat or a PDF converter.
Regardless of which method you use, creating a searchable PDF is pretty easy.
Let's see how you can do it.
Identify If Your PDF Is Searchable
Before we head to explaining the process of creating a searchable PDF, we would like to briefly check how you can check if your PDF is searchable. This is the first thing you should do in order to see if there's a need to proceed to the process since now many PDFs are created searchable.
To do this, you should open the PDF and click CTRL+F.
The Find Box will appear and you should enter a word you know it's in the document to check if there's a match.
It would be great if you can write a word that repeats throughout the document. If a message that no matches were found appears, the document is not searchable.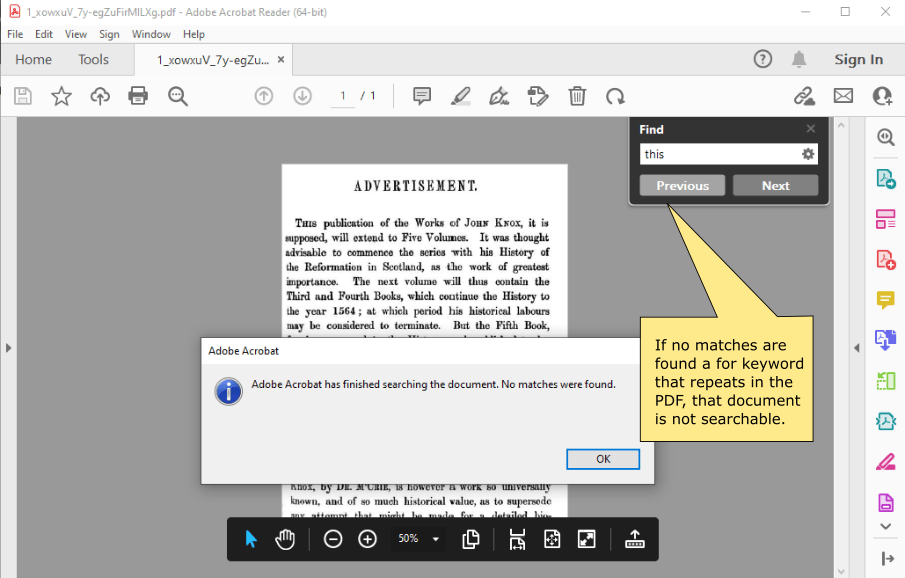 Another way to check if a PDF is searchable is to highlight a word with your mouse. If the word can't be highlighted and the page becomes blue, it suggests that the document is an image and that the text is not searchable.
If any of these scenarios happen to you, you should proceed with making your PDF searchable.
Make PDF Searchable with Adobe Acrobat
If you use Adobe Acrobat to make a PDF searchable, you should follow these steps:
Step 1. Launch Adobe Acrobat.
Step 2. Click File > Open and select the PDF file you want to edit.
Step 3. Click on Tools from the menu bar and select Scan & OCR. In the toolbar, click on Recognize Text. A panel will open below the horizontal pane, and you should select In This File.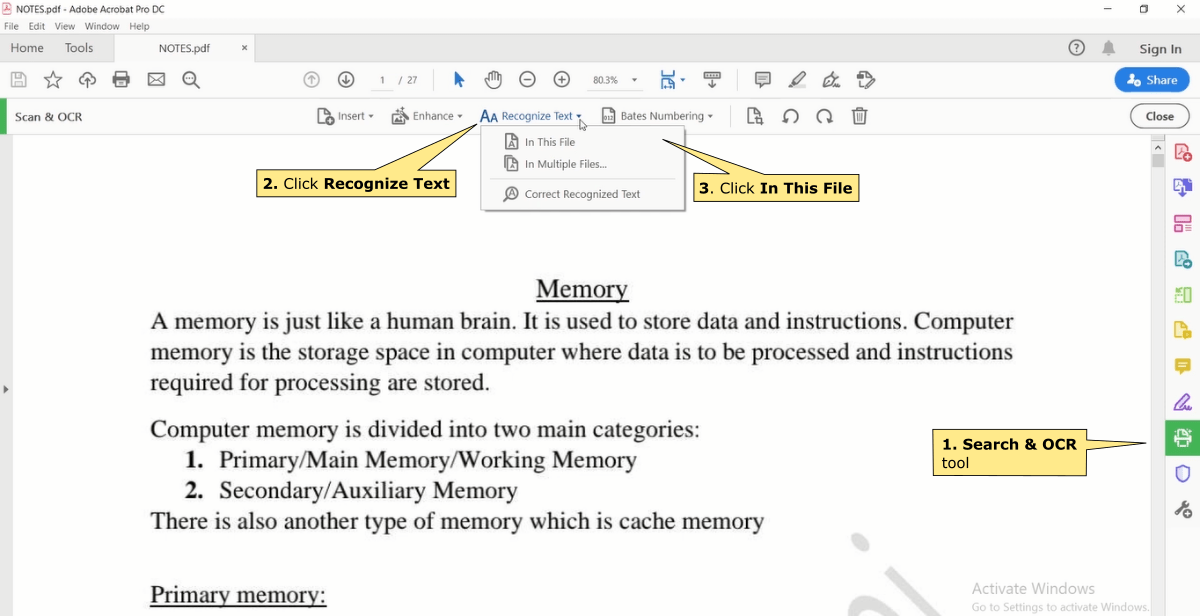 Step 4. A Recognize Text popup box will appear. You should select All pages and click OK.
Step 5. The program will start the process. It usually proceeds page by page, so if the document is longer, you may have to wait for several minutes to complete.
Step 6. When the process is completed, click Save and save the document with a new name to keep the original. Then, check again using the Find feature to see if everything is alright.
You can also make several PDF files searchable at once by choosing Multiple Files in Step 3.
Also, the output file setting can be configured is you prefer faster converion to Searchable Image (Exact). If you prefer smaller PDF size, but slower conversion, then choose Editable Text and Images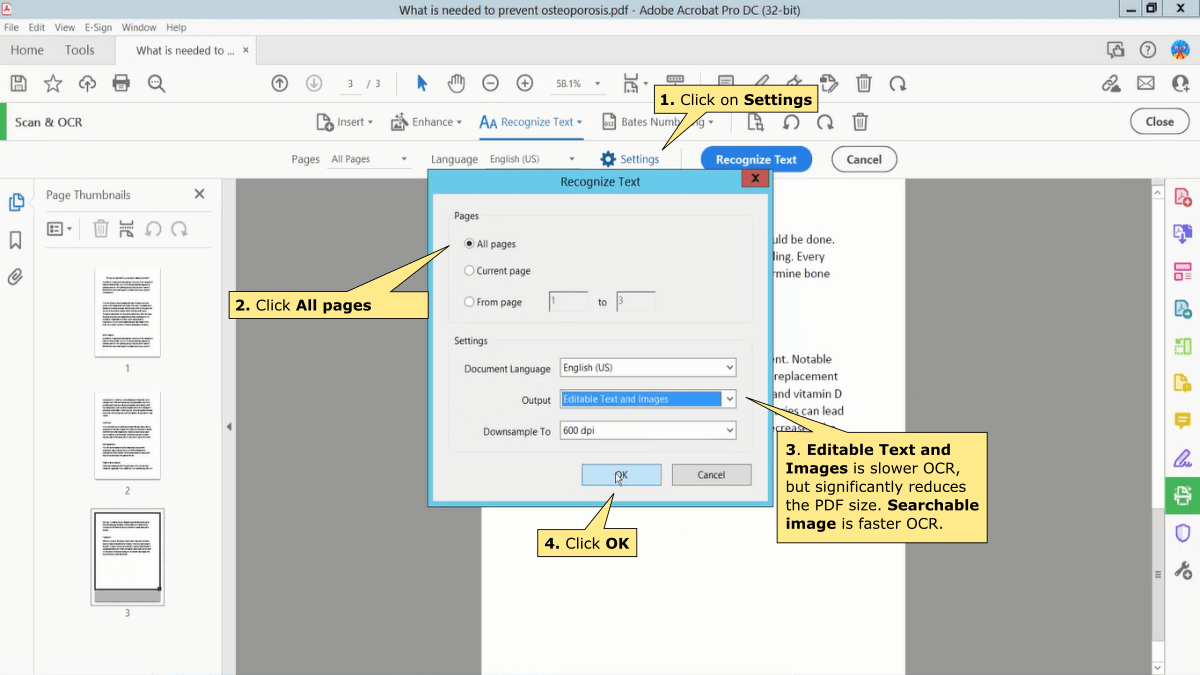 Another way to make a PDF searchable with Adobe Acrobat Pro is through the editor.
Step 1. Launch Acrobat.
Step 2. Click File > Open and select the PDF.
Step 3. Click on Edit PDF from Tools menu.
Step 4. Use the Search tool to look for a keyword, and click on Next.
Step 5. A popup window will appear with message that this is a scanned PDF and cannot be searched. Run text recognition by clicking Yes.
Step 6. New popup with settings will appear. Leave default setting, and click on OK.
Step 7. The software will convert the file into a searchable PDF, by performing Optical Character Recognition.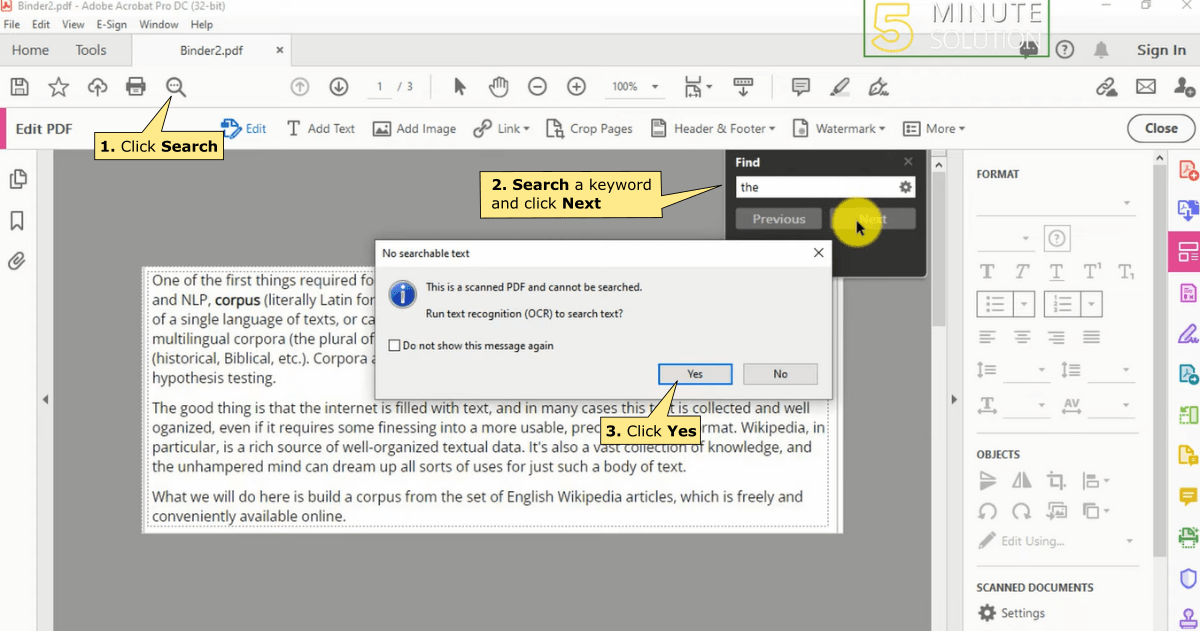 Make PDF searchable with PDF converters
Apart from using Adobe Acrobat to make a PDF file searchable, you can also use PDF converters if it's scanned or image-based. Most of them are online tools you can use for free, but you can also find paid ones.
Which PDF converter you use is up to you and your preferences. If you have used one before to edit a PDF file, you can most probably use the same to turn your PDF into a searchable one.
Having in mind that most PDF converting apps are simple, user-friendly, and easy to use, the searchability process should go pretty smooth.
Most online PDF converters ask you to upload or drag-n-drop the PDF file you want to edit. If you are using an app like this online OCR tool, you will have to open the file as you do with Word, Excel, Adobe Acrobat, or any other program. Then, you need to use the Optical Character Recognition (OCR) feature to convert the text from the image into a searchable one.
PDFs are now more important and more used than ever. They can be accessed on any device and edited using specific programs and apps.
Apart from editing them in terms of text, adding images, rearranging pages, split or merge pages, add annotations and comments, etc. you can also edit them to become searchable.
Making a PDF file searchable makes managing and working with document more convenient. It's because you will be able to quickly find certain words or information within the document. That speed up the entire editing process when you need to add a comment or change those words.
If searchability wasn't on the list of features of PDF files, now it is.
So, take advantage of it and simplify your work.
---