Desktop vs Online PDF Converters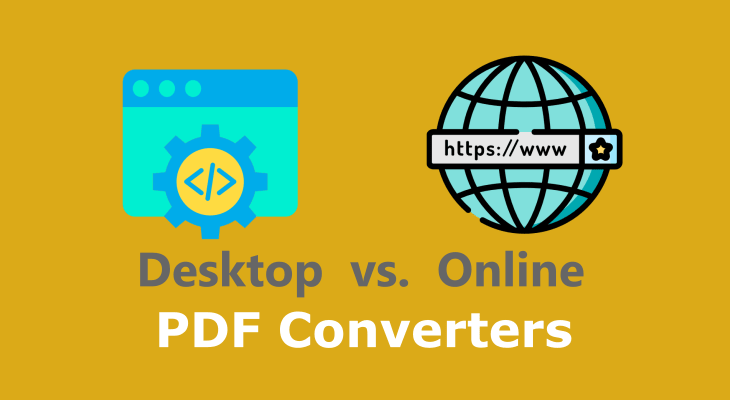 PDF is one of the most used file formats today, especially among businesses. It's very convenient to use and easily accessible across all devices and operative systems. Moreover, It's highly secure as it allows you to limit access to your document using encryption and password as well as a watermark and digital signature.
However, PDFs have one big flaw. They cannot be directly created as Word documents are. Instead, they have to be converted from other types of file formats into PDF. In order to do this, you have to use a PDF converter.
PDF converters allow you to convert any file format into PDF and vice versa. In that way, you can "play" with your documents and use them in different formats, as needed. You can edit and protect the content and compress the document for sharing it via email.
There are two categories of PDF converters: online tools and desktop software. As you may assume, they are not the same. In order to choose the right type of PDF converter, you should know the differences between them, their pros and cons. So, let's have a look at them.
5 Aspects of Comparison
In order to present the differences between Desktop PDF converter software and Online PDF converter tools, we will compare them in 5 aspects.
Quality
Quality is one of the most important aspects when judging and comparing PDF converters. The quality of your documents should never be compromised because it may lead to inaccurate conversion and even losing data (content). It's especially important for businesses as you have to deliver high-quality documents to your clients. Although no desktop nor online PDF converter is the same, there is a difference between these two categories in terms of conversion quality.
Desktop PDF converters are created to handle complex documents. They ensure the highest quality of the converted document, regardless if it is image or audio quality or text format. So, if you want to convert advances PDF, with a variety of contents included (text, image, video, hyperlinks, etc.), you should choose a desktop converter.
Online PDF converters, on the other hand, can handle simpler documents. They don't provide conversions of the highest quality as desktops converters and can mess up things like spacing, lists, and similar format-related stuff. However, they are great for quick and simple conversions of documents that don't have a lot of formatting or contain several types of content included.
Availability
Availability is another important aspect you should consider when comparing Desktop with online PDF converters. It's because it allows you to use the converter at any time you need. Thus, you will save time, nerves, and will be able to convert your documents whenever you need to do it. If you need a PDF converter for business purposes, you know how important is to convert your documents as soon as possible; otherwise, you may have trouble with your boss or clients.
When it comes to availability, it's pretty straightforward. Desktop PDF converters are always available because you have the software installed on your computer. All you have to do it open the program and start the conversion process. Moreover, you can install it on your smartphone, hence you can convert your documents on the go. And, you don't need an internet connection to covert documents.
Online PDF converters, on the other hand, aren't always accessible because you need an internet connection in order to access them. However, they are a great option because they are available from any browser. Plus, you can access them on any device. In that way, you can convert your documents no matter where you are or which device you use, as long as you have an internet connection.
Speed
Another important aspect to consider when choosing between desktop and online PDF converters is the conversion speed. The faster the conversion is, the better. You don't want to lose hours of your day waiting for that document to convert.
When comparing both types of converters, the difference is evident and in favor of desktop PDF converters. It's because they are installed on your computer or smartphone and you can quickly access them. Once you open the program and choose the document you want to convert, the conversion will start immediately and will end in no time.
When using an online PDF converter, the whole conversion process takes more time. There are three reasons for this. First, because you have to find the documents you want to convert and upload to the site. The uploading may fast or slower, depending on the size of your document. Second, you don't know how long it will take to convert your document. Sometimes, the server may be too busy with other people converting their documents, so you will have to wait until it frees up. Third, the conversion speed depends on internet quality. If the internet connection is good, the conversion will be faster. But, if it's bad, you will probably wait for some time (if not an hour or so).
Privacy and Security
Regardless of whether you are business or an individual, the privacy and security of your content are of primal concern. You wouldn't like anyone unauthorized to view your documents. Having that in mind, desktop PDF converters are better than their online relatives.
Desktop PDF converters are on your computer or smartphone. That means you don't have to upload files on a server or leaving any personal information as many online converters require in order to use them. Hence, every document you convert is stored on your device and remains protected using password or watermark protection.
When it comes to online PDF converters, the privacy and security of your documents aren't guaranteed. It's because you upload it on a server and it remains there for a while, so anyone can find it and steal it. Of course, some online conversion tools delete whatever you have uploaded on their server immediately after the conversion is finished. In that way, you can rest assured your content is safe. Another thing that makes online converters unsecured is that some of them require you to sign up before using them. Hence, you leave your name, surname, email, and maybe your phone number or similar information. In that way, you have no privacy when using those converters.
Features
When choosing a PDF converter, you want one that has as many features as possible. That gives you bigger freedom in working with your document. Features like various input and output formats, editing the content, splitting/merging pages, bulk/single conversions, number of pages, OCR technology, and similar, are important when working with PDFs. Not every PDF converter has them all.
Desktop PDF converters have many of these features even when using their free version. For instance, you can split/merge pages, edit the content, and do a bulk conversion. However, they are limited, so you should purchase the premium version if you want to get more features without any limitation.
Online PDF converters are much more limited in their features than desktop converters. For instance, they can do a single conversion, not bulk conversion. Or, they cannot split/merge pages, convert most file formats, or limit the number of conversions per day.
PROs and CONs of Desktop and Online PDF Converters
Desktop PDF Converters
PROs:
Provide conversion of highest quality
Support complex documents
Available 24/7
Easily accessible
Can be used without an internet connection
Fast conversion
Secure and protect the privacy of your documents using passwords and watermarks
Have numerous features
CONs:
Limited features when using the free version, so you have to upgrade the software to the premium version to enjoy all features
Online PDF Converters:
PROs:
Available 24/7
Easily accessible
Accessible on any device and browser
Have numerous features
CONs:
Don't provide high-quality conversions
Support only simple documents
Require internet connection
Slower conversion process
Don't guarantee your uploaded documents are secure and kept private
Many of them ask for personal information in order to be used
Don't have many features and those they have a limited
As you can see, both, desktop and online PDF converters have their strengths and weaknesses. Although none of them is flawless, it seems that desktop PDF converters lead with their characteristics based on the 5 aspects of comparison. Of course, that doesn't mean that all desktop converters are awesome nor all online converters suck. It all depends on the converter and its features. Therefore, when choosing a PDF converter, make sure you consider their quality, availability, speed, features (and their limitations), and privacy and security.
---