14 Best PDF Compressor Tools For 2023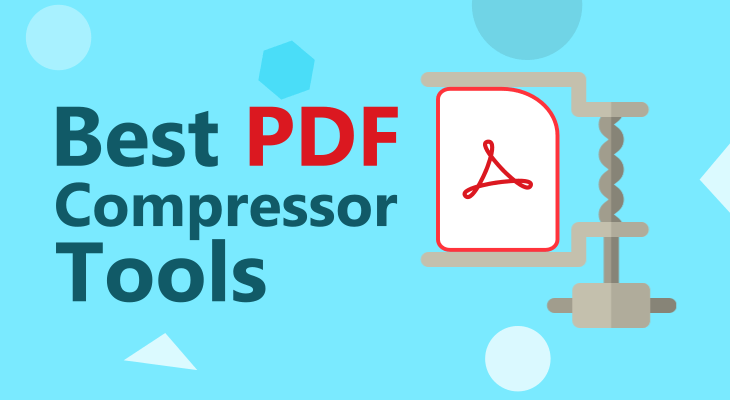 The advancement of technology has streamlined our work processes, with Portable Document Format (PDF) playing a crucial role in today's document management system. However, a common challenge often faced by individuals and small to medium-sized teams is the size of these PDF files, which can be substantial, leading to storage issues and slower sharing of documents. This is where the importance of PDF compressor software comes into play.
PDF compressor software and tools are specifically designed to reduce the file size of PDF documents without compromising their quality. This aids in efficient storage and faster transmission of files, a vital aspect for businesses dealing with extensive amounts of documentation daily. Think of all the information or data we make, copy, and use all over the world. It's a lot, right? Well, it's expected to grow really fast and could reach a super big number, 120 zettabytes, in 2023. That's like millions of billions of books, emphasizing the urgent need for effective data management solutions like PDF compressors.
However, not all PDF compressor software are created equal. Several factors need to be considered when choosing the right solution. These include the software's ease of use, its compression ratio, the quality of the compressed PDF, security features, the ability to handle batch compression, its compatibility across different platforms, and cost-effectiveness. Each of these factors contributes to the overall functionality and suitability of the software for different users and their specific needs.
In this article, I'm sharing data-driven evaluation of the best PDF compressor software and tools in the market, considering the varying requirements of individuals and businesses alike.
For the purpose of my evaluation and testing of the best tools for reducting the size of PDFs, I took a sample file of 14.6 MB (link to the PDF), and used for my compression test on every software here. When compressing the file, I used a Medium compression on every tool and the results are listed here.
Take your time as you will be equipped with an understanding of the essential features and capabilities of each tool, allowing you to make an informed decision on the best PDF compressor for your needs. Discover how you can enhance your document management process and improve your team's productivity with the right PDF compression software.
Cisdem PDF Compressor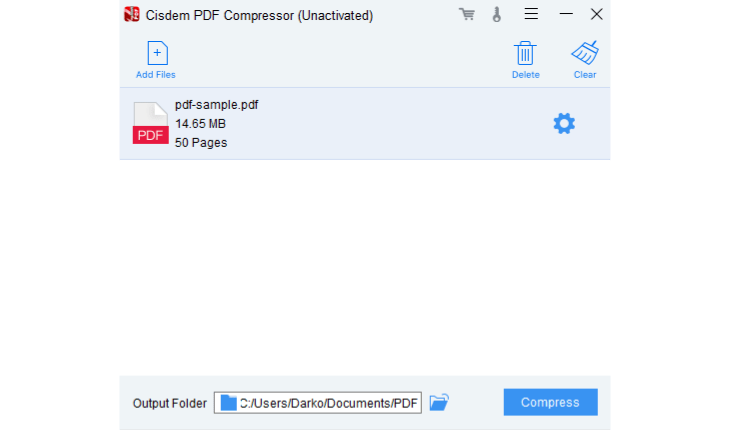 Price: One-year subscription stats from $29.99. One-time purchase license starts from $49.99.
Features: Set image quality, batch PDF compression.
Cisdem, a renowned software development company, has been producing high-quality applications for Mac users since 2009. Their diverse range of solutions is designed to make life easier for individuals and businesses alike, and Cisdem PDF Compressor is a shining example of this commitment. This Mac-based software serves as a highly efficient and reliable tool to compress PDF files, aiming to enhance productivity for its users.
Cisdem PDF Compressor stands out with its clean and intuitive interface. Once you launch the program, it's as simple as dragging and dropping your files into the application. The software supports batch compression, allowing you to compress multiple files simultaneously, saving precious time and effort.
The strengths of Cisdem PDF Compressor lie in its customization options. Users can adjust the compression settings to fit their specific needs, choosing between four different compression modes that offer a balance between file size and quality. Moreover, it provides a real-time size reduction indicator, helping you make informed decisions. Cisdem PDF Compressor stands out in the Mac software space as a robust, flexible, and user-friendly solution for compressing PDF files.
Results: The compressed file is 61.78% smaller than the original. New file size is 5.58 MB.

---
PDFgear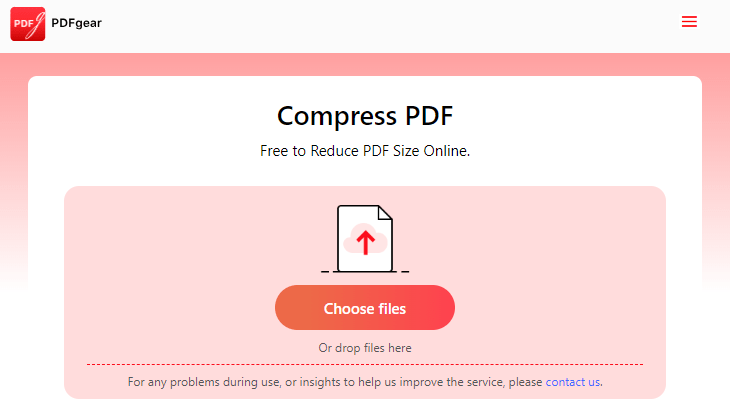 Price: Free.
Features: 3 compression options.
With a deep-seated commitment to providing reliable and practical solutions, PDFgear's PDF compressor exemplifies their dedication to creating superior, user-friendly software.
The PDFgear compressor greets users with a sleek and minimalistic interface that allows for straightforward operation. Once you upload your PDF file, the platform's compression algorithm kicks into gear, performing a high-efficiency reduction of your file size while preserving as much quality as possible.
What sets PDFgear apart from many of its competitors is its expansive feature set. Beyond basic compression, PDFgear provides options for splitting and merging PDFs, converting them to different formats, and even enabling batch compression—a boon for those dealing with large volumes of documents. Furthermore, PDFgear is careful with your data, employing secure protocols to ensure that your files are handled with the utmost respect for privacy. In the diverse landscape of PDF compression tools, PDFgear stands as a comprehensive, versatile solution that delivers on all fronts.
Results: The compressed file is 55.13% smaller than the original PDF. New file size is 6.55 MB.

---
GorillaPDF Compressor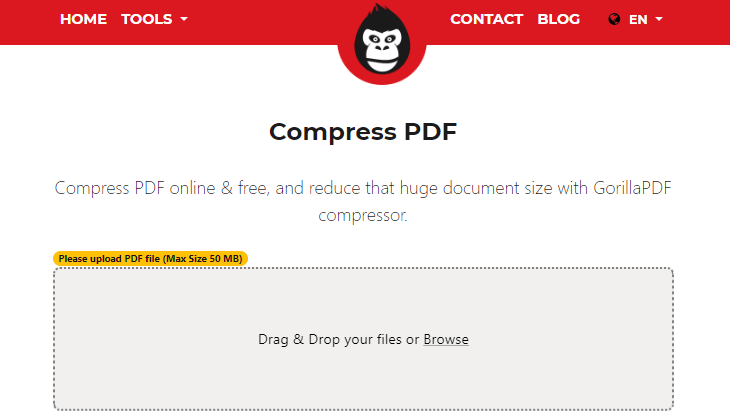 Price: Free
Features: PDF file preview, 4 compression options.
GorillaPDF's PDF compressor was developed with the mission to offer a robust and reliable solution for managing PDF file sizes. GorillaPDF's core philosophy revolves around user-friendliness and efficiency, and the GorillaPDF Compressor is a testament to this approach.
Entering the GorillaPDF Compressor platform, users are greeted by a straightforward, easy-to-use interface. The platform prompts you to upload your PDF, then a single click initiates the compression process. The tool swiftly reduces the file size while preserving the document's original quality as much as possible.
GorillaPDF Compressor's strength lies in its perfect balance of simplicity and power. It allows users to compress files easily and quickly, and it supports batch processing, a feature that many users dealing with large numbers of files will find highly beneficial. Added to this is GorillaPDF's strong commitment to data security: your compressed files are permanently deleted from their servers after a few hours, ensuring your sensitive information remains secure. With these features and more, GorillaPDF Compressor stands tall in the world of PDF compression tools.
Results: The compressed file is 43.97% smaller than original. New file size is 8.2MB.

---
PDF2GO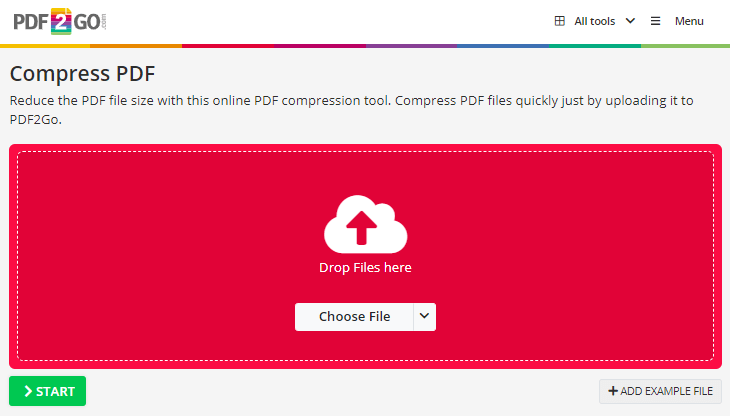 Price: Pricing plans start from $5.90.
Features: 2 compression modes, image quality setup, grayscale images and text.
PDF2Go delivers a robust, user-friendly platform for managing PDF files, making it a standout solution in the digital market. As a web-based tool, it offers the advantage of accessibility from any device, while also packing an array of features to enhance your PDF handling experience.
PDF2Go's compression tool is a powerhouse. It reduces the size of your PDF files without a noticeable drop in quality. The interface is simple and straightforward, enabling a swift compression process for users of all tech abilities. Batch compression is also available, facilitating quick and easy handling of larger tasks. A unique feature of PDF2Go is its support for the compression of different file types, not just PDFs. Additionally, the platform's high standard of security ensures your files are in safe hands. PDF2Go is free to use, with a premium version available that offers a wider range of functionalities.
Results: The compressed file is 27.43% smaller than original. New file size is 10.64 MB.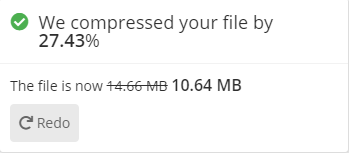 ---
WeCompress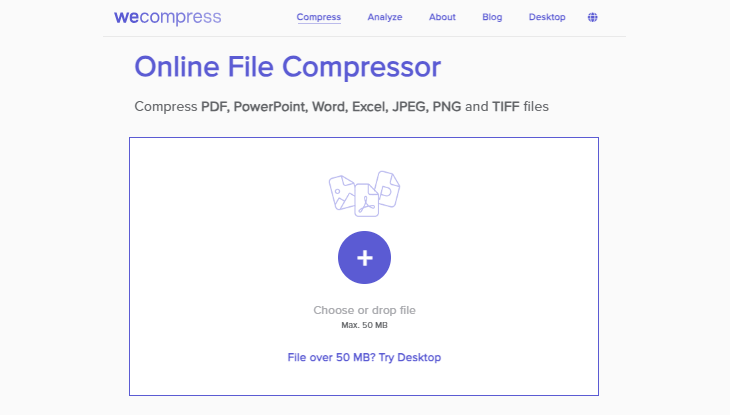 Price: Free
Features: Option to compress other file types.
WeCompress hails from the innovative tech house of NXPowerLite Ltd, a software company based in London with over 20 years of experience in file optimization. Known for delivering simple yet powerful software solutions, NXPowerLite brought WeCompress into the limelight with the goal to make file compression accessible to everyone, everywhere.
WeCompress welcomes users with an interface that is as clean as it is intuitive. The platform immediately prompts you to drag and drop your file, providing an effortless user experience right from the get-go. Despite its ease of use, it doesn't compromise on efficiency, compressing large files into significantly smaller sizes without noticeable loss of quality. Moreover, as an online tool, WeCompress is platform-agnostic, making it a highly convenient option for users across different devices and operating systems.
Results: The compressed file is 26.09% smaller than original. New file size is 10.79 MB.

---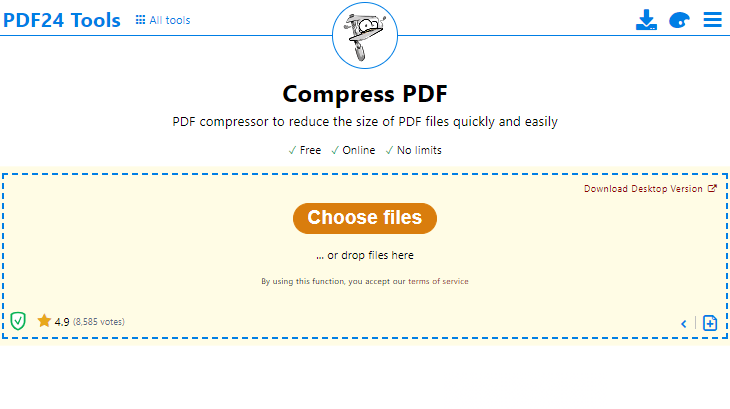 Price: Free.
Features: DPI setup, image quality and color selector.
PDF24 Tools is a collection of free and easy-to-use online PDF tools that make working with PDFs a breeze. It combines versatility and simplicity, delivering a platform where users can manage their PDF files effectively and efficiently.
Review and Features: PDF24 Tools' compressor is adept at reducing PDF file sizes while retaining high quality. The interface is simple, making it easy for users to navigate and complete their tasks. It offers a custom compression feature, enabling users to adjust the quality of their output. One of the distinctive features of PDF24 Tools is that it doesn't put a limit on the file size or the number of files you can compress. From a security perspective, the platform uses SSL connections for file transfers, ensuring your data is secure. With its no-cost model and vast capabilities, PDF24 Tools is a fantastic choice for budget-conscious users looking for a reliable and efficient PDF compressor.
Results: The compressed file is 25.68% smaller than original. New file size is 10.85 MB.

---
CleverPDF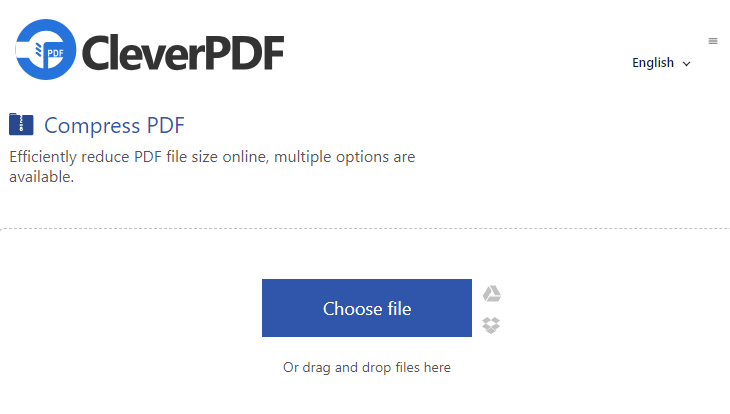 Price: Starting from $19.99 one-time payment.
Features: 4 compression options, customizable image quality.
CleverPDF offers a suite of PDF tools with a smart and user-friendly interface. As a web-based solution, it provides access to a range of functionalities including compression, conversion, merging and splitting of PDF files.
Review and Features: CleverPDF's compression tool can significantly reduce your PDF's size without sacrificing the quality. The compression process is straightforward and fast, with an option for batch compression available. Importantly, CleverPDF puts a high emphasis on security. All files uploaded are automatically deleted from their servers after 30 minutes, ensuring that your documents remain private. While CleverPDF does offer some services for free, the premium version unlocks a larger array of features.
Results: The compressed file is 24.04% smaller than original. New file size is 11.09 MB.

---
123Apps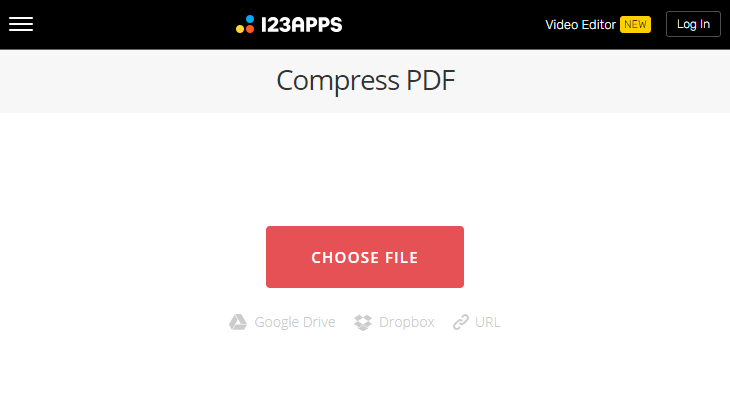 Price: Plans start from $6.47/month.
Features: Upload PDF via URL or cloud.
123Apps stands as a symbol of innovative online applications tailored to simplify your digital tasks. Since its inception, the company has dedicated itself to the development of user-friendly, web-based tools that do not compromise on performance. Its PDF compressor application is a brilliant example of this ethos, combining an accessible interface with powerful compression capabilities.
At the heart of 123Apps' PDF Compressor lies a simple yet dynamic user interface, making it effortless to upload, compress, and download your files. Simply drag and drop your PDF files into the compressor, and with a single click, your compression process is underway. The tool is impressive in its speed and reliability, effectively reducing your PDF size while maintaining high-quality resolution.
The platform adheres to stringent data protection regulations, with uploaded files automatically deleted from their servers after a short time.
Results: The compressed file is 23.86% smaller than original. New file size is 11.13 MB.

---
iLovePDF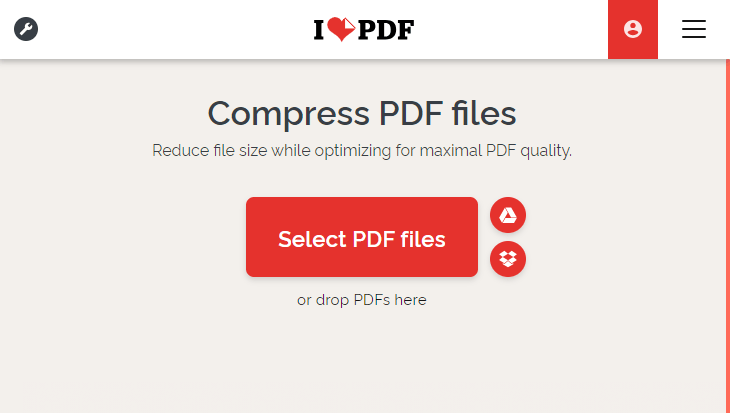 Price: Plans start from $4.30/month or $51.75/year.
Features: 3 compression options, batch compression.
I Love PDF is a quirky yet proficient tool in the PDF management field. Their mission is simple: to help people manage their PDF files as efficiently and easily as possible, and they deliver exactly that. As a web-based tool, it offers accessibility and convenience, requiring no software installation.
Review and Features: I Love PDF's compression tool is impressive, maintaining a high quality to size ratio. It offers custom compression levels, giving users full control over their output. The interface is clean and colorful, making it inviting and easy to use. A standout feature is its integration with Google Drive and Dropbox, allowing for seamless import and export of files directly from cloud storage. Furthermore, I Love PDF maintains a high level of security, with all files being deleted from their servers after two hours. The tool is available for free, but there's also a Premium version that offers additional benefits like ad-free usage and unlimited tasks.
Results: The compressed file is 23.56% smaller than original. New file size is 11.16 MB.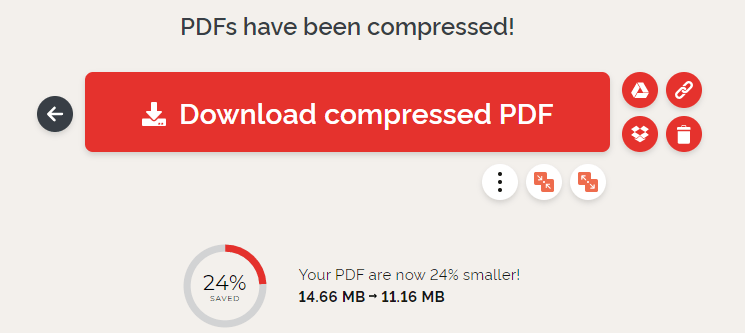 ---
Smallpdf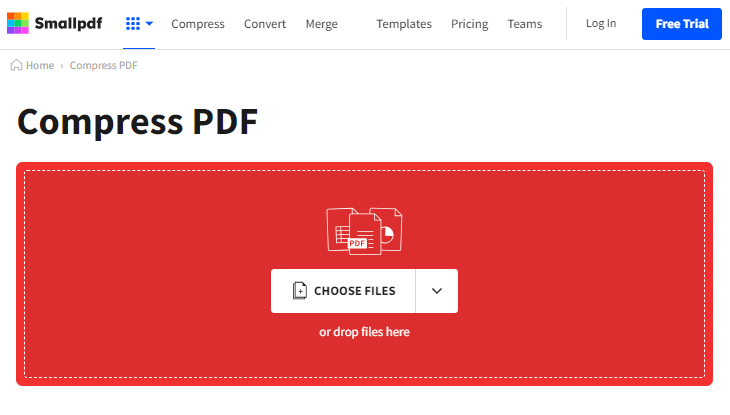 Price: Plans for individuals and teams. Starting from $9/month.
Features: Two compression options.
Emerging as a champion for small businesses and individuals, SmallPDF is a cloud-based solution that packs a punch in the realm of PDF compression. This tool has carved out a unique space for itself in the market, offering simple and effective solutions for managing PDF documents.
SmallPDF's compression tool can significantly reduce your PDF's size while maintaining a commendable level of quality. The tool's user interface is beautifully designed, straightforward, and easy to navigate. Even the most non-tech savvy users will find the compression process quick and painless. Batch compression is another standout feature, providing efficiency for larger tasks. One of SmallPDF's most notable features is its strong security; all files uploaded are automatically deleted from their servers after an hour. The tool offers both a free version and a reasonably priced Pro version, which includes additional features like unlimited access and faster processing.
Results: The compressed file is 17.80% smaller than original. New file size is 12 MB.

---
Sejda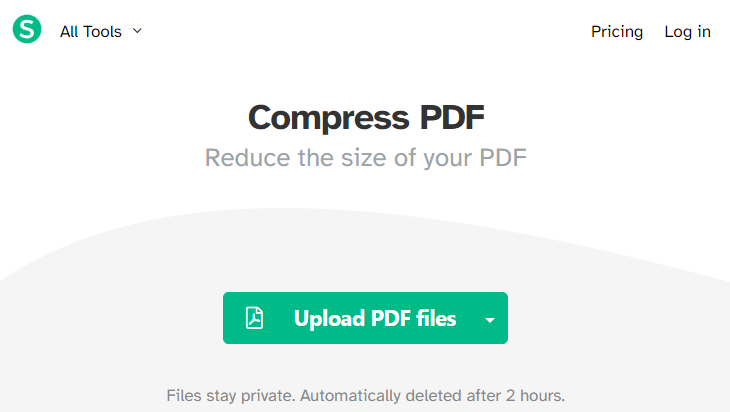 Price: $5 for 7 days one-time billing or $7.50/month.
Features: Upload PDF via URL, cloud or PC, image quality and resolution setup.
Sejda PDF stands out with its uniquely clean, modern interface and robust suite of PDF management tools. Recognized for its simplicity and ease of use, it's an attractive solution for users from all walks of digital life. The tool is web-based, meaning there's no need for downloads or installations—a truly on-the-go solution.
Sejda's PDF compression tool is incredibly effective, providing a significant reduction in size while maintaining excellent visual quality. Users have the option to adjust compression settings, giving control over the balance between file size and resolution. Sejda also offers a bulk compression feature, providing a smooth, efficient process for multiple files. In terms of security, the platform automatically deletes files after two hours, providing an additional layer of privacy. While Sejda does offer a limited free version, the reasonably priced Pro version unlocks an extensive list of features and capabilities.
Results: The compressed file is 10.95% smaller than original. New file size is 13 MB.

---
Adobe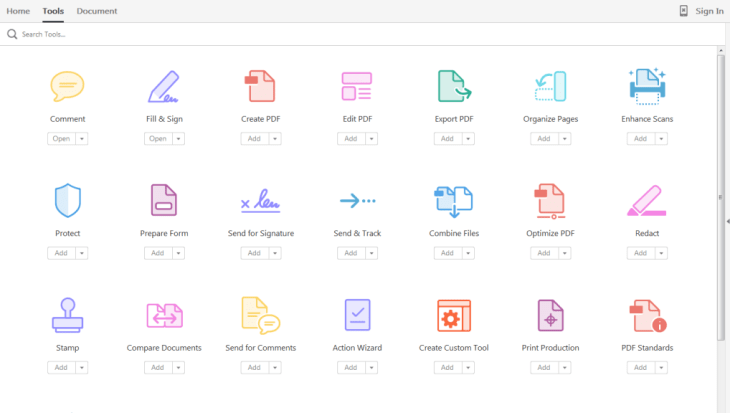 Price: Plans for individuals, businesses and educational. Pricing start at US$19.99/mo.
Features: Image and font settings, flattern transparency, discarding options.
Originating from the creators of the PDF format itself, Adobe Acrobat DC is a testament to the brand's continuous commitment to pioneering the digital document field. The software is a comprehensive suite that not only enables you to create and edit PDF files but also to compress them effectively. Known for its user-friendly interface and high-end capabilities, Adobe Acrobat DC is a premium choice for businesses and individuals looking for a powerful PDF tool.
Adobe Acrobat DC offers a robust PDF compressor, supporting both individual and batch compression. Users can select different compression levels, allowing a customizable balance between quality and file size. With its intuitive and clean interface, the process is as simple as a few clicks. Beyond its compression prowess, Acrobat DC shines in its integrated cloud service, allowing for seamless sharing and storage of your newly compressed files. Additionally, the tool prioritizes document security with password protection and encryption capabilities. While it is a paid software, the wealth of features provided justify the investment.
Results: The compressed file is 9,17% smaller than original. New file size is 13.26 MB.

---
PDF Candy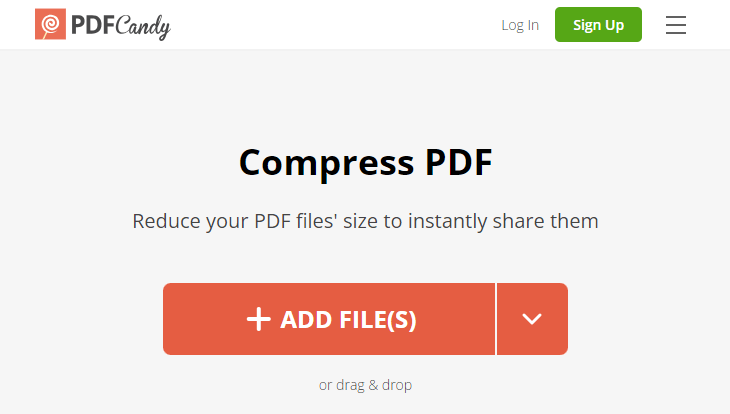 Price: $6/month or $99 for desktop and web lifetime.
Features: Batch compression, load PDFs from cloud storage.
PDF Candy, a product of Icecream Apps, is a versatile online tool that combines a user-friendly interface with powerful functionality. Launched in 2014, Icecream Apps has been at the forefront of providing intuitive and efficient software solutions, and PDF Candy is no exception. With a plethora of features at its disposal, it goes beyond simply compressing PDFs, offering a comprehensive suite of services to manage and modify your PDF files.
Upon entering the PDF Candy site, you're greeted with a colorful and easy-to-navigate interface. The PDF compression tool is simple to use, allowing you to upload a file from your device, Google Drive, or Dropbox. Once your file is uploaded, the compression process begins automatically. The tool provides efficient compression without compromising the quality of your documents.
Results: The compressed file is 8.90% smaller than original. New file size is 13.3 MB.

---
DocFly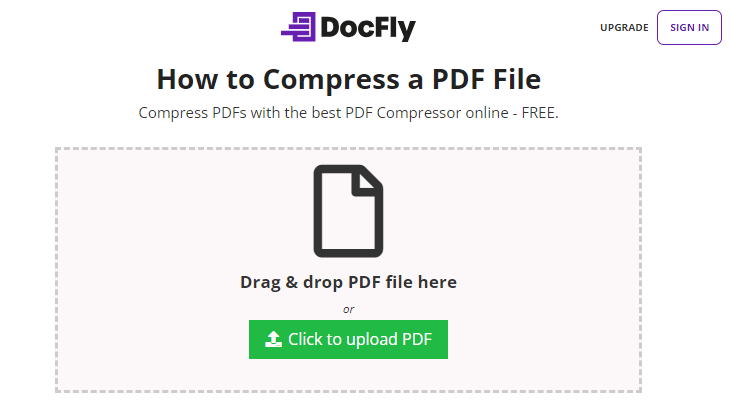 Price: $3.99/month or $47.88/year.
Features: Three compression options.
DocFly, formerly known as PDF Pro, is a robust online tool designed to cater to all your PDF management needs. Established in 2013, DocFly has been committed to providing advanced yet easy-to-use PDF solutions for businesses and individuals alike. DocFly takes pride in delivering top-notch functionality without the need for complex software installations.
The moment you land on the DocFly site, you'll find a clean, minimalist interface that makes it a breeze to compress your PDF files. You can choose files from your device or cloud storage, and with a simple click, DocFly goes to work, compressing your files while ensuring to maintain their original quality.
Results: The compressed file is 4.10% smaller than original. New file size is 14 MB.

---
Desktop vs. Online PDF compressor
Desktop and online PDF compressor solutions both serve the same primary purpose – reducing the size of your PDF files – but they do so in different ways and offer different advantages. Your choice between the two depends on factors such as your specific needs, how often you need to compress files, the size of the files, and your concern for data security. Here is a comparison between the two types of solutions.
Desktop PDF Compressor Solutions
Desktop PDF compressor tools are software applications that you download and install on your computer.
Advantages:
Performance and Speed: Desktop solutions often provide faster processing speed as they do not rely on internet speed. They are more suitable for large files and batch processing.
Privacy and Security: Since the files don't leave your computer, desktop tools offer a higher level of security, making them a better option if you're dealing with sensitive information.
Offline Access: These tools can be used without an internet connection, offering accessibility at all times.
Advanced Features: Desktop software usually offers more advanced features, such as custom compression levels, batch processing, and integration with other software.
Disadvantages:
Cost: Many desktop applications come with a price tag, though there are also free options available with limited features.
Space Requirement: These applications require storage space on your computer.
Software Updates: You may need to update the software manually to get the latest features or security patches.
Online PDF Compressor Solutions
Online PDF compressor tools are web-based applications that can be accessed from any web browser.
Advantages:
Convenience and Accessibility: Online tools can be accessed from any device with an internet connection. There's no need to install anything, which is convenient for users who frequently switch between devices.
Ease of Use: These tools are generally designed to be user-friendly, often featuring a simple drag-and-drop interface.
Cost: Many online tools are free to use, although they may offer premium versions for advanced features.
Disadvantages:
Internet Requirement: You need a reliable internet connection to use these tools. The upload and download times can also be significant if you're working with large files.
Privacy and Security: When using an online tool, your files are uploaded to a server, which could be a concern if you're working with sensitive documents. However, most reputable providers use secure connections and delete your files from their servers after a certain period.
Conclusion
Choosing the right PDF compress tool is not easy, but with the right approach and by considering your specific needs, you can identify the optimal solution for you. Whether it's the unparalleled convenience of an online tool or the robust capabilities of a desktop application, there's a PDF compressor out there tailored to your unique requirements. Remember, the right choice is one that blends efficiency, security, ease of use, and affordability, effectively enhancing your document management process. After all, a PDF compressor is not just a tool—it's a productivity partner that helps you achieve more with less.
FAQ
What is a PDF compressor?
A PDF compressor is a tool that reduces the size of PDF files, making them easier to share, upload, or store without taking up excessive storage space.
What is the difference between desktop and online PDF compressors?
Desktop PDF compressors are software applications that are installed on your computer, while online PDF compressors are web-based tools that can be accessed from any device with an internet connection. The choice between the two depends on your specific needs, including frequency of use, file size, advanced features, and data security.
Are online PDF compressors safe to use?
The safety of online PDF compressors depends on the provider. Most reputable providers use secure connections for file transfers and automatically delete your files from their servers after a certain period to ensure your data's safety. However, if you are dealing with highly sensitive information, a desktop compressor might be a safer choice.
Can I compress multiple PDF files at once?
Yes, many PDF compressors support batch processing, which allows you to compress multiple files simultaneously. This feature is particularly useful if you frequently need to compress large numbers of files.
Does PDF compression affect the quality of my files?
The impact on quality depends on the compression level used. Higher compression levels reduce the file size more but can also lead to a more noticeable drop in quality. However, many advanced PDF compressors can significantly reduce file sizes while still maintaining good visual quality.
How do I choose the best PDF compressor?
Choosing the best PDF compressor depends on your specific needs and preferences. Key factors to consider include the compressor's efficiency, the frequency and size of files you'll be compressing, the interface and ease of use, data security, cost, and the level of customer support provided.
Do PDF compressors work with scanned documents?
Yes, most PDF compressors can compress scanned documents. Some advanced compressors can even apply Optical Character Recognition (OCR) to make the text in scanned documents searchable and editable.
Can I compress a PDF that is password-protected?
The ability to compress a password-protected PDF depends on the compressor tool. Some may require you to enter the password before compressing the file, while others might not support password-protected files at all.
Do I lose my data when a PDF is compressed?
Compressing a PDF reduces the file size by optimizing images and removing redundant information, but it should not delete any content. However, high levels of compression may reduce the quality of images or other graphical elements in the document.
Is it possible to decompress a PDF?
Once a PDF has been compressed, it can't be decompressed to its original state. Therefore, it's always a good idea to keep a backup of the original file before compressing it.
Can I compress a PDF on my mobile device?
Yes, many online PDF compressors are mobile-friendly and there are also specific mobile apps available for both Android and iOS devices.
Do I need technical knowledge to use a PDF compressor?
Most PDF compressors are user-friendly and require no specific technical knowledge. They usually feature intuitive interfaces and provide clear instructions for compressing files.
What happens to my PDF files after they have been compressed online?
Reputable online PDF compressors automatically delete your files from their servers after a certain period, typically within an hour. It's recommended to always check the privacy policy of the tool you are using.
Does the number of pages in a PDF affect the compressor's efficiency?
The size of the PDF, rather than the number of pages, is generally what impacts a compressor's ability to reduce the file size. However, more pages can lead to a larger file size, especially if the document contains high-resolution images or complex formatting.
---